Melda Roache Clark has compiled several of her short stories into a book entitled Life Matters. She shares one here.
---
SAYONARA, LOCKEPORT
by Melda Roache Clark, Class of 1978
Although it seems like yesterday, this event actually occurred more than forty years ago. I had been dreaming of this day since I was about twelve years old. How many times had I stomped up the stairs yelling back over my shoulder?
"You just wait until I turn eighteen? Then you won't be the boss of me!"
As a typical teenager I was craving freedom. I wanted make my own decisions, whether wise or stupid. Better still, Mom and Dad wouldn't know anything because we would be separated by 200 anonymous miles.
It was early September 1975 and my cousin and I were heading off to Teachers' College in Truro, Nova Scotia. My worldly possessions, including a flashy new typewriter, were packed in my suitcases. I couldn't wait to say good riddance to a place where everybody either knew your business or thought they did! I was ready to spread my wings and soar on my own.
I had been raised in a very strict home. I went to school and to church. So just exactly what was I eager to do? Shave my head? Tattoo L-O-V-E on my knuckles? Frequent the taverns? Chase the boys? Seduce a teacher? Hitchhike to Toronto? Rob a bank?
On that monumental day, Dad had gone fishing before daylight so it was just Mom and me at home. I carried everything outside and waited for my cousin and her parents to arrive. In a matter of minutes their car pulled into the driveway.
I could never have imagined my reaction when the moment came. It was time to say good-bye. Standing beside the well, Mom and I looked into each other's eyes. An enormous lump totally blocked my throat. Mom looked at me, her chin quivering, and managed to choke out, "Melda, I don't know what I'm going to do without you."
Life in Truro was exciting. How far did I stray from the straight and narrow? I did not shave my head. I did not tattoo L-O-V-E on my knuckles. I did not hang out at the taverns. I did not chase the boys, wink, wink, nudge, nudge.
My cousin and I walked up hilly Kaulback Street to church twice every Sunday. We sang duets regularly. On one occasion, we had the nerve to accompany ourselves on our $14.95 ukuleles. Horror of horrors! We took our studies very seriously. We learned how to use a card catalogue and how to write a proper essay. We practically lived in our library cubicles completing the mandatory readings and doing research for essays. We studied diligently for tests and exams. I am beginning to believe, we had halos and wing sprouts. Life was good.
We returned to Lockeport for Thanksgiving weekend. As we passed through Allendale, Lydgate and Brighton, it appeared as if everything had changed. Were there only a dozen streetlights? Everything looked so small after the bright lights of Truro.
Mom and Dad were excited to see me. Mom expressed it by wearing a huge smile, showering me with gifts, cooking my favourite foods and letting me sleep in. She refrained from asking too many nosy questions and I chose which ones to answer truthfully.
Looking back to September 1975, I couldn't get out of the little yellow house with the red roof fast enough. More than forty years have passed and it is 2016. Mom and Dad have passed away and the house I was eager to leave behind belongs to me. Although I live 1000 miles away, Lockeport is never far from my thoughts. In fewer than six weeks, my husband and I will strike out for the umpteenth time to enjoy a couple of months at the same little yellow house with a red roof.
Hey, if you are in the area, drop by for a few yarns and a mug up. We have a few years of catching up to do.
---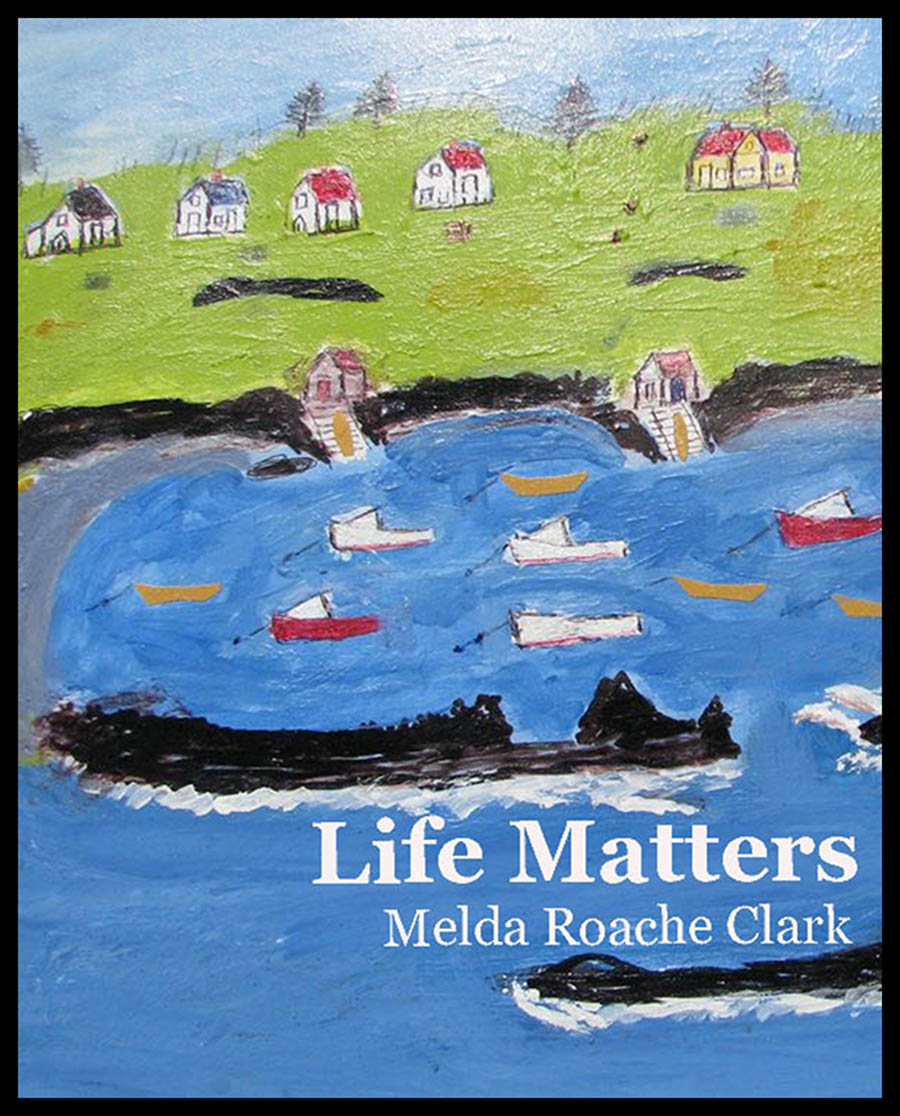 Life Matters is available for $25 directly from Melda Roache Clark at meldaclark@hotmail.com
Her blog is found at Every Day Matters