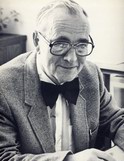 Principal from 1972 to 1981
Dr. MacIntosh had his initial training in the Industrial Arts program at the Provincial Normal College.  He later received a B.Sc. from Rutgers University and an MA from Saint Mary's University.  He began his teaching career in 1945 at Morris Street School, Halifax, was head of industrial arts at Cornwallis …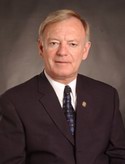 Principal from 1989 to 1994
Jamie Muir graduated from Dalhousie University with Bachelor degrees in Arts and Education. He later earned Master's and Doctorate degrees in Education at the University of Virginia.
Mr. Muir's extensive professional experience includes being a high school teacher in Truro; a lecturer at the University of Prince Edward Island; an …
Principal in 1869
Upon the death of Alexander Forrester in 1869, John Calkin was appointed Interim Principal of PNC. It appeared that Calkin would likely be appointed Principal, but instead, the government of the day appointed William Mulholland who had been teaching Mathematics.
It wasn't long before there were complaints from the students about Mulholland's …